Search for your question below, or contact Customer Service directly at (323) 720-8881 or cs@sagebh.com.
Placing an Order
No. We sell wholesale to the trade only. Resale licenses are a requirement for all Sagebrook Home customers. If you are a consumer, you can purchase a selection of our merchandise directly from Amazon here.
A minimum order is considered the total necessary to qualify for case pack pricing and LTL shipping. Our buying programs are as follows:
Wholesale program: $1,000 minimum order with full or split case packs. For all orders between $1,000 - $2,999, freight rate is determined by regional zone as outlined in the map below. Example: a $1,000 order shipping to Texas will have a 17% flat rate, or $170, and shipped via Freight. Please see below for possible accessorial charges such as residential and lift gate fees.
Freight Special: All orders over $3,000 will have a reduced flat rate of 15%.
Designer program: $500 minimum order with no case pack minimum. You can buy as little as one piece of each item to reach the $500 minimum and your order will be shipped parcel. A 35% flat rate will be applied to all orders shipped between $500-$999. Example: a $550 order shipping to New York will have the designer price applied to all items in the order and receive a 35% shipping rate.
All backorders under $250 will be automatically canceled.
No, the only products that are shown are those that are in stock or that will be available in the next 45 days. Just because a product is not appearing does not necessarily mean it's discontinued. You can browse the full physical catalog online here. Contact Customer Service if you have a question about a specific SKU. (323) 720-8881, cs@sagebh.com
Although we try to have everything in stock, sometimes items need to be backordered. These backordered items can be shipped with your approval once available and if the total reaches your country's minimum. Customer service will be in touch once your backorder is available. Backorders under $250 will be automatically cancelled.
Once your first order is placed with a credit card, you may apply for terms with an order minimum of $3,000. Please complete a Credit Application, and contact Customer Service for more assistance. (323) 720-8881, cs@sagebh.com
Yes, all customers may purchase less than a case pack quantity, for a higher price. On a product's page you'll see the variance in price, and the price will change accordingly as you edit the quantity. Items shipped at less than the order minimum will be given the single wholesale price and have a shipping rate of 35%.
Yes. Click here to see if you qualify. Using our state-of-the-art Box On Demand system, we ensure the best drop ship packaging possible.
If you can't meet the minimum drop ship committment, you may still sell Sagebrook Home decor online if you purchase and house your own inventory first. We would be happy to provide you with hi-res images and specs for the products that you have ordered from us.
Shipping an Order
We work hard to ship your order as quickly as possible. The typical shipping window is 3 to 5 business days after an order has been placed and once payment has been received.
Sagebrook Home ships LTL by the pallet. Freight varies by order size and shipping destination- we offer freight caps by region. Orders over $2,000 qualify for a 15% freight cap to destinations in the continental United States. Contact your international sales manager for more information about international shipping: joe@sagebh.com. Additional fees (lift gate, residential, etc.) may apply.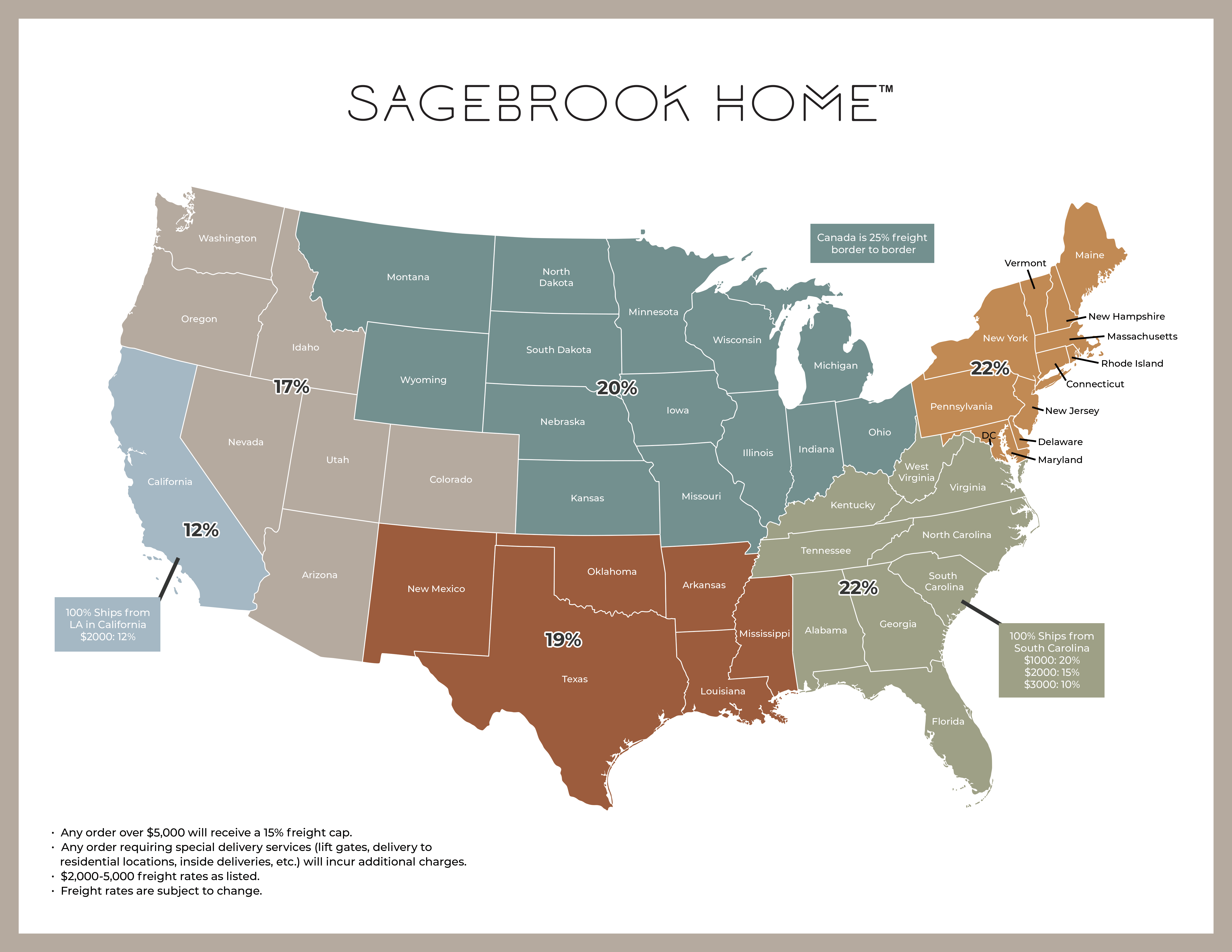 Yes. Additional fees may apply. For more information about shipping and delivery, see our Terms & Conditions.
You'll find the freight company and tracking number at the top of your invoice.
Shipping and Receiving Policies
Count and confirm the number of cartons and/or items received at time of delivery.
Record this number on the freight bill or delivery document and sign for the delivery.
Inspecting each carton and/or item foWord Wrap r damage in the presence of the delivery driver.
Noting any overage, shortage, and/or damage on the freight bill or delivery document, with the acceptance of the delivering drivers signature.
Sagebrook Home must be notified immediately if there is shortages or damages during delivery. Including photos of the pallet(s) and showing any damage to the shipment.
Sagebrook Home cannot be held responsible for any damages or missing packages if not notated on the BOL in the presence of the delivery driver.
Sagebrook Home has the right to deny any claims, if all of the above, mentioned shipping policies are not followed.
Customer Service
Your credit card will be authorized when we go to pack your order. The card is not charged and the funds are not captured until your order is shipped, at which time you'll receive an invoice by email. (Think of it like a hotel deposit.)
Contact your sales rep and they will take care of you! If you're not sure who your sales rep is, contact Customer Service at cs@sagebh.com or (323) 720-8881.
With fragile decor, sometimes this happens, so we've made our claims process as easy as possible. Complete our Claim Form, uploading clear photos of each item being claimed. Our Claims Department will be in touch and process your claim within 3-5 business days.Only one claim will be accepted per invoice, and it must be submitted within 10 days of receipt of order, so be sure to inspect all of your goods immediately upon arrival. Sagebrook Home reserves the right to refuse a claim or to offer a percentage discount for saleable items.
Sagebrook Home does not take returns however; a return would be considered on a case by case basis. No returns or damaged merchandise will be accepted without a Return Authorization issued by our Customer Service Department. All returns are subject to a 25% restocking fee plus shipping, handling and re-consignment charges both ways.
Join Our Family
Create Account
Registering allows you to view pricing, easily create new orders, view past orders, get exclusive access to sales and market specials, and more. Don't miss out!